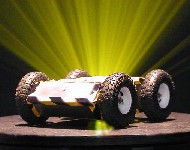 Buzz Bomb was a robot that competed in the final Season of Robotica. It was built by John Hoffman and was the smallest and lightest robot in the competition. Team Run Amok described it as packed with power and wondered if it could outrun or outmaneuver it's opponents. It lost in the Preliminary Stages to Jaw Breaker's Revenge.
Ad blocker interference detected!
Wikia is a free-to-use site that makes money from advertising. We have a modified experience for viewers using ad blockers

Wikia is not accessible if you've made further modifications. Remove the custom ad blocker rule(s) and the page will load as expected.