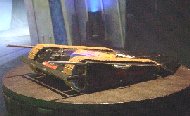 Dark Track was a robot that competed in the final Season of Robotica. It was powered by six EV Warrior motors with a lot of chains and sprockets. According to team Run Amok, Russ Barrow's machine had quickness to match the mobility provided by its treads and it had front ramming spikes and a rear lifting wedge. It lost in the Preliminary Stages to Rambot.
Ad blocker interference detected!
Wikia is a free-to-use site that makes money from advertising. We have a modified experience for viewers using ad blockers

Wikia is not accessible if you've made further modifications. Remove the custom ad blocker rule(s) and the page will load as expected.