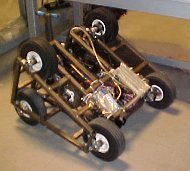 Fury was a robot that competed in the Final Season of Robotica. It was built by Brian Ondov and John Blackburn of Team Attrition, weighing 210 pounds. It was armed with a 24 inch, 3000 RPM vertically-rotating pipe/chisel weapon that could function inverted and was armored with Lexan and steel with a top speed of 15 MPH. It lost in the Preliminary Stages to Ultraviolence.
Ad blocker interference detected!
Wikia is a free-to-use site that makes money from advertising. We have a modified experience for viewers using ad blockers

Wikia is not accessible if you've made further modifications. Remove the custom ad blocker rule(s) and the page will load as expected.