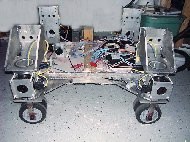 Mechacidal Maniac was a robot that competed in Season 2.0 of Robotica. It was a complex machine with eight motors, wheels that could point independently in any direction and wiring that Team Run Amok described as looking like an Italian dinner. It was designed by Brian Nave who usually built robots with spinners. It beat Shannonagains by 5 points in the Preliminary Stages but then lost to future Finalist Ill-Tempered Mutt in the Fight to the Finish.
Ad blocker interference detected!
Wikia is a free-to-use site that makes money from advertising. We have a modified experience for viewers using ad blockers

Wikia is not accessible if you've made further modifications. Remove the custom ad blocker rule(s) and the page will load as expected.