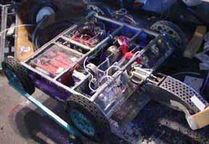 Negative Reinforcement was a robot that entered the first season of Robotica. It was a four-wheeled box-shaped robot with a cutting jaw at the front. It was only an alternate however and did not get to compete.
Negative Reinforcement competed in Season 3.0 of BattleBots and it also competed in Season 1.0 of Robot Wars: Extreme Warriors as Sobek.
Ad blocker interference detected!
Wikia is a free-to-use site that makes money from advertising. We have a modified experience for viewers using ad blockers

Wikia is not accessible if you've made further modifications. Remove the custom ad blocker rule(s) and the page will load as expected.