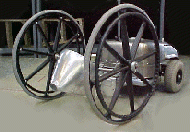 Pandora's Bot (referred to as just Pandora on Team Run Amok's Robotica Competitors page) was a robot that competed in the first season of Robotica. It was a roughly box shaped robot with 4 wheels, the front 2 of which were a pair of large wheel-chair wheels. It lost to Solar Flare in the preliminary stages. Sadly at the end of the competition, Pandora's Bot was dismantled and its parts were freely given away to other builders.
Wins: 0
Losses: 3
Total Points: 110
Season
Round
Opponent
Trial
Points
Result
1
Heat
Solar Flare

Solar Flare

Solar Flare

Speedway

Maze

Gauntlet

20

60

30

Lost

Lost

Lost
Ad blocker interference detected!
Wikia is a free-to-use site that makes money from advertising. We have a modified experience for viewers using ad blockers

Wikia is not accessible if you've made further modifications. Remove the custom ad blocker rule(s) and the page will load as expected.