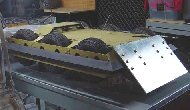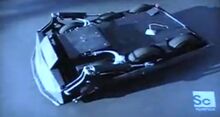 Panzer Mk was a robot that competed in Seasons 1.0 and 3.0 of Robotica. It competed as Panzer Mk 1 in Season 1.0 where it beat Malvolio in the preliminary stages but lost then lost to Viper in the Fight to the Finish. It returned in the third episode of Season 3.0 as Panzer Mk 3 where it took on and beat Re-Intriverter in the preliminary stages then beat Zeus in the Fight to the Finish. It beat Rambot in the Final Gauntlet then beat Jaw Breaker's Revenge in the Final Labyrinth (scoring a impressive 150 points) then took on and defeated Juggerbot 3.0 in the Final Fight to the Finish to become Champion.
Panzer Mk also competed in both seasons of Robot Wars: Extreme Warriors, competing as Panzer Mk 2 in Season 1 and Panzer Mk 4 in Season 2, winning the US Championship both times and representing the United States in the 2nd World Championship. It also competed in Season 5.0 of BattleBots as Wrath.
Wins: 9
Losses: 1
Total Points: 725
Season
Round
Opponent
Trial
Points
Result
1.0
Heat 6
Malvolio

Malvolio

Malvolio

Speedway

Maze

Gauntlet

Fight to the Finish

80

100

100

N/A

Won

Won

Won

Lost

3.0
Heat 5
Re-Intriverter

Re-Intriverter

Zeus

Gauntlet

Labyrinth

Fight to the Finish

80

130

N/A

Won

Won

Won

Final
Rambot
Final Gauntlet

Final Labyrinth

Final Fight to the Finish

85

150

N/A

Won

Won

Won
Ad blocker interference detected!
Wikia is a free-to-use site that makes money from advertising. We have a modified experience for viewers using ad blockers

Wikia is not accessible if you've made further modifications. Remove the custom ad blocker rule(s) and the page will load as expected.