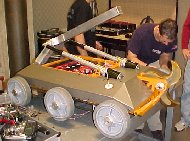 Ultraviolence was a robot that competed in the Final Season of Robotica. It was built by Jeff Cesnik and was armed with a powerful rotating blade. It was the successor to Season 1.0 Grand Finalist Kritical Mass and also made the Grand Final where like its predecessor, it fell short of making the Final Fight to the Finish, losing to Juggerbot in the Final Labyrinth.
Ad blocker interference detected!
Wikia is a free-to-use site that makes money from advertising. We have a modified experience for viewers using ad blockers

Wikia is not accessible if you've made further modifications. Remove the custom ad blocker rule(s) and the page will load as expected.