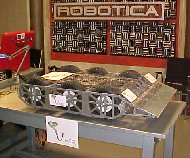 Viper was a robot that competed in the first season of Robotica. It was originally a red 6 wheeled box wedge shaped robot that could run either way up, its front wedge was modified into more of a ramming wedge for Season 3.0. It beat Evil Beaver in the preliminary stages then beat Panzer Mk 1 in the Fight to the Finish but lost to Juggerbot in the preliminary stages of the Final. It returned for Robotica Season 3.0 in the sixth episode as Viper Revision 2 where it beat Particle Accelerator in the preliminary stages (beating Particle Accelerator's score of 30 with a score 145) but then lost to Rambot in the Fight to the Finish.
Team Viper entered the second season of Robot Wars: Extreme Warriors with Snake Bite which lost in the second of the heat after qualifying from the same melee as Panzer Mk 4.
Wins: 6
Losses: 4
Total Points: 490
Season
Round
Opponent
Trial
Points
Result
1.0
Heat
Evil Beaver
Speedway
60
Won
Evil Beaver
Maze
60
Won
Evil Beaver
Gauntlet
100
Won
Panzer Mk 1
Fight to the Finish
N/A
Won
Final
Juggerbot
Speedway
20
Lost
Juggerbot
Maze
45
Lost
Juggerbot
Gauntlet
60
Lost
3.0
Heat 3
Particle Accelerator
Gauntlet
95
Won
Particle Accelerator
Labyrinth
50
Won
Rambot
Fight to the Finish
N/A
Lost
Ad blocker interference detected!
Wikia is a free-to-use site that makes money from advertising. We have a modified experience for viewers using ad blockers

Wikia is not accessible if you've made further modifications. Remove the custom ad blocker rule(s) and the page will load as expected.